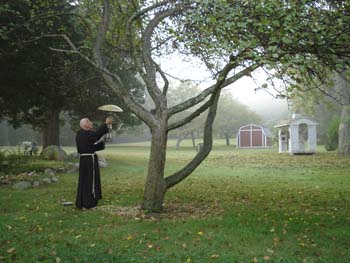 They're kind of like monks, is what I usually tell people. They wear the brown robes, they pray four times a day, they bake bread.
But this doesn't say it all, not even close. It doesn't say what they're really about or who they are or what they mean to me–these guys in brown robes that I like to hang out with.
Their way of life is so ancient that it seemed immovable. It seemed like they would always be here.
*     *     *
Little Portion Friary is four miles from my house, and we are both oddities here in suburbia.
Read More
"Congratulations! You're a bastard," said the acceptance letter.
This can mean only one thing: I have a new story out in Print Oriented Bastards, Issue #4.
It's called "The Missing Person." A little taste for you:
Long before she was my wife, Martine was my childhood babysitter, seven years older than me, and I've worshipped her since the first time she walked in smelling of Red Hots and library books.
Read the rest at Print Oriented Bastards.
PS This story made  its debut at a Cornelia Street Writers Series reading, which you should check out if you're in NYC.
Read More