I've started writing little reviews for ImageUpdate. What a pleasure, to receive delicious new books in the mail and dash off anonymous thoughts about them! This one–Allison Funk's Wonder Rooms–was a particular pleasure.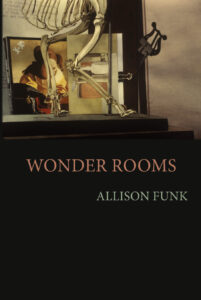 Let's start here: "bestiary" is a wonderful word. To begin with the superficial, it is fun to say, beautiful in the mouth. Now deeper: the medieval makers of bestiaries, cataloguing animals both real and mythical, were mixers—art-with-text; mermaids-with-marmots; the scientific impulse to parse and catalog with the religious impulse to uncover meaning. Using collected curiosities and beautiful-in-the-mouth language as her starting point, Allison Funk does all of these things in her fifth book of poems, Wonder Rooms. In "6 rue de Savoie, Paris," one of a handful of poems that center on artist and Picasso muse Dora Maar, Funk writes: "Still, she was / comforted by her curiosités. A plaster virgin. Suitcase labeled / Passenger Markovitch. A scrap of paper stained brown on which / she'd written Blood of Picasso." Funk does not so much seek comfort in her curiosités as use them as starting points for examining a decidedly animate life—liquidly alive through the sepia overlay of bestiaries, artifacts, and the remarkable lives of now-deceased women (Maar, Teresa of Avila, seventeenth-century naturalist/painter Maria Sibylla Merian). She examines aging with no self-pity and an appreciative clarity of its beauties (as in "North Bridge," observing "peace in a solitude / that polishes every surface"). She returns again and again to the story of a son whose life we watch from baby steps through "years of unhappiness, / accidents, arrests, the illness / an acid, that etched his mind" ("Loci") to a three-story fall that he survives, although greatly altered: "No longer threatened or threatening, / of all who move / through Mercy's quiet rooms / you are the quietest" ("On a Few Lines by Rilke"). In the wonder rooms of Funk's poems, the point of all curiosities is to magnify truth rather than distract from it. The reader will leave with treasures. To quote from her poem "Basilisk (from The Ashmole Bestiary, 1511)": "defying expectation, we lived / to see in the basilisk what we had become. / How at last we were unafraid / to look anything in the face."
Purchase your copy of Allison Funk's Wonder Rooms here.
Read More
I've started writing little reviews for ImageUpdate. What a pleasure, to receive delicious new books in the mail and dash off anonymous thoughts about them. Here's my first: A review of the new anthology Winged.
Winged: New Writing on Bees edited by Melissa Reeser Poulin and Jill McKenna Reed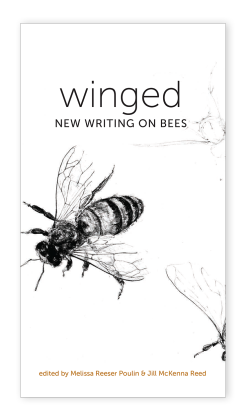 "A single bee's life's work amounts to a quarter teaspoon of finished honey," writes Craig Goodworth in his prose-poem "The Hive." "The Bulgarian army, having run short of medical supplies, dressed wounds with honey…. Reduced vigor of bees means earthly fertility could be ruined." Read enough of this, and two things happen: the drizzle of honey on your morning cereal begins to feel as decadent as 24-karat cornflakes, and you start to sense the value of bees to life on Earth. This kind of awakening would surely please the editors of Winged: New Writing on Bees, a tall-and-slender anthology of poetry, short essays, and stories, which began as an Oregon-based teacher's effort to "do something for pollinators" in response to "the disturbing decline of honeybees." (More on that—"doing something"—in a moment.) For readers simply drawn to the bee as metaphor, image, or living creature, however, there is plenty of just-plain-beautiful between these covers. Standouts include "The Beekeeper's Boy" (Rachel Cochran's story of a fierce friendship between two boys), "Free Bees" (Adrienne Flagg's humorous piece on hipster beekeepers), and a posy of good poems too numerous to name. Occasional religious references glint throughout Winged—in the poems, especially—but this book's real spiritual content is found in its power to summon wonder, and in its moral call to see. As co-editor Jill McKenna Reed writes in her afterword, the decline of bees is not only an ecological and economic tragedy, but an aesthetic and spiritual one: "We as artists and humans on Earth stand to lose the beauty that honeybees produce simply by doing their work." If this alarms you as much as it does the editors, you will appreciate the book's opening and concluding essays, which explain threats to bees (climate change, Colony Collapse Disorder) and assemble a manageable handful of ways to take action. But if the very thought of "taking action" sounds daunting, then read this book for the quiet contemplation it offers. Bees intrigue; they invite contemplation; and these teeming pieces prompt contemplation, too. 
Read More