Gina, Queen of Almost: A Novel
Gina, Queen of Almost: A Novel
Representation: My wonderful agent recently moved to another position in publishing and is no longer agenting (as of August 2018), so I'm seeking new representation again. The novel has never been out on submission (we'd polished it to a high shine and were just about to send it out!). If you're interested in reading the ms, please contact me at jen.hinst.white@gmail.com.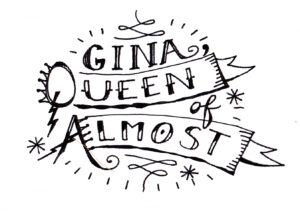 [literary fiction/commercial crossover/New Adult]
[90,000 words + illustrations]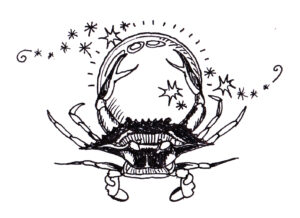 Gina Mulley, 18, desperately wants to become a tattoo artist—but this is 1985, a time before the tattoo explosion. Most tattooers are men. The classic designs are anchors and pin-ups, not the quirky flash Gina proposes (merit badges, meatballs, amoebas). Her brother Dominic, who owns the only studio in their working-class Long Island hometown, is convinced that customers won't take her seriously.
Through a series of clever maneuvers, Gina eventually persuades him to take her on as an apprentice. But her plans are complicated by a growing friendship with a fake psychic named Nicolas and his live-in assistant, Anna—both of whom are keeping secrets.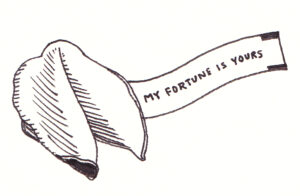 As Gina struggles to prove herself—how many grapefruits does a tattooist have to practice on before she can turn a real live human being into a work of art?—she also struggles with how to forge a meaningful life. She and Anna eventually fall in love, but will Anna's wanderlust pry them apart? Both Nicolas and Dominic say they have Gina's best interests in mind, but do they? And does tattooing serve any greater good?
A word about the research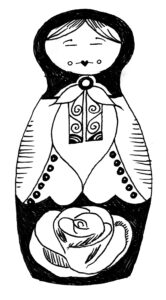 My fascination with tattoos started with my mother. I was seven years old when she had her wrist tattooed with a butterfly and took me along. Writing Gina, Queen of Almost gave me the excuse to interview several wonderful tattoo artists, including Marguerite, one of the first women to tattoo on Long Island; Lynn TerHaar, the first woman to open a tattoo shop in Suffolk County; Marvin Moskowitz, a third-generation tattooist, whose legendary forbears Stanley and Walter Moskowitz (The Bowery Boys) opened the first studio on Long Island in the 1960s. Much has changed in tattooing from 1985 to today—including art and hygienic practices—so this novel captures a bit of tattoo history.
A word about the drawings
As I was finishing the novel, I began to draw things that I imagined might appear in Gina's sketchbook, objects that appear in her story or her imagination. The illustrations that started as a way to clarify my character ended up peppering my novel.