Pleasure, Play, & Fire in the Belly
Pleasure, Play, & Fire in the Belly
This week I had the joy of giving a reading in Rochester, NY, and it got me thinking about the power of play. 
I've been working hard lately, writing a lot and loving it: an essay brewing on lady tattooers; a long book review/essay on the Vietnam antiwar movement; and most of all, one last balls-to-the-wall, make-it-lean-and-mean, let's-go-and-%$&!in'-rock-this revision on my novel. Also some public speaking. Also, the two wee beasties who call me Mama are now on summer vacation.
And I love those beasties and I love this work. It's so easy, though, to drift into an anxious seriousness about it–because being a mama means that I am aware, every single moment I am working, that my time is running out. The credits will roll on the Captain Underpants movie. Babysitting pick-up time will arrive. Or perhaps I'm pulling an all-nighter in blissful nocturnal silence, but dawn is coming, and there will be tussles to mediate and eggs to fry. I get anxious. I love my work, but the sand in the hourglass really puts the pressure on sometimes. 
After I finished that novel revision, my batteries were drained. I had committed to do a reading upstate in Rochester and planned to tow my family along, but instead, I got my husband's OK to travel it solo. I knew this would pour some life back into me: to be alone a while; to go somewhere new; to spend a fun evening with smart writers.
I got all that, but I also got a wonderful surprise.
I started my day in the hotel room, laptop propped on the windowsill, overlooking the cathedral across the street.
I needed to polish up the pages I was going to read that night, and I was feeling (again) worried about it. And then the word Play popped into my head. Then this thought: You're in Rochester. You're from Long Island. Jen, they've invited you over to play. 
This thought about being "invited over to play" was funny, and so freeing. I wasn't nervous anymore.
When I need to ground and center myself, I get out my yoga mat and turn on Yoga with Adriene. Pages prepared, I did that.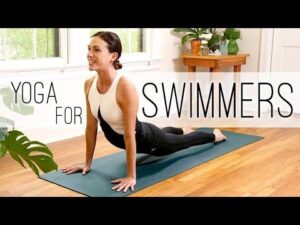 And to my surprise, as yoga teacher Adriene Mishler led us from one pose into another, she began to talk about… Play. Moving in a way that was free and playful.
The reading wasn't until the evening, so I decided to roam Rochester a little and take in some visual art. I checked Google Maps for nearby museums. Across the street was the Rochester Contemporary Art Center (RoCo). And a short walk from that? The Strong Museum of Play.
Rochester has A MUSEUM OF PLAY?
RoCo was hosting a "6×6" exhibit: Three thousand pieces of artwork arranged in grids, each of them only six inches by six inches.
Some were done by celebrities. Some were done by children. Names were hidden, and therefore grandstanding was impossible. It was a raucous celebration of art as play.
At the Strong Museum of Play, I wandered in–one of the only solo adults in a sea of families–and, free of parenting responsibilities, I got to play. In a Rockets, Robots and Ray Guns exhibit, I doodled a glow-in-the-dark space mermaid with a fire in her belly.
I squished Kinetic Sand through my fingers and made a magic wand at the Wizard's Workshop. And I watched a video that proclaimed the museum's philosophy, talked about play as an essential human activity that strengthens and teaches us through challenge and pleasure.
WHEE.
Albert Abonado, poet/radio host/organizer of the Always Be Closing reading series at Nox Cocktail, had put together a trio of writers that included these fascinating dudes, Geoff Graser and Bob Shea.
Bob was going to read about his travels in the sixties; Geoff, about a graffiti artist; I from my quirky novel about tattoos. All this, arguably, with roots in pleasure and art and play. A group of us went out to dinner, I talked at length with Megan Galbraith, artist and writer, and she spontaneously began to talk about how her feminist dollhouse series began as PLAY.
And then we had the reading. And I felt the feeling I often do when I am speaking or reading, when it feels like I am a conduit for some joyful thing that wants to come out and play. The way the energy in the room moves like a wave pool when people laugh. When I can feel they are present and I am present and all of us ready to engage in something pleasurable together. Geoff and Bob were so good, and clearly that's pleasure, too–to sit back and let someone tell you a story.

Then we went out dancing and stayed up talking and laughing into the wee hours, which obviously is just icing on the cake.
I needed this time in Rochester and didn't even know it. I thought I was just going to benefit from the alone time and the cheerful camaraderie of writers. But this thing about play–I've taken it home. We should expect professionalism of ourselves, I think: to meet deadlines, deliver the best work we can, be diligent in research and editing and all the rest. To commit to a writing schedule, whether or not we feel inspired, makes us the servants of the work in the best possible way; such a practice says, I am here and listening.
But without some spirit of play in that diligence, without some sort of pleasure, I know that my writing is diminished.
I'm so glad for the reminder that my writing doesn't just need my diligence. It needs that, certainly. But it also needs yoga (sometimes with a wee beastie for company),
and jogging on the beach by my house,
and also jaunts into the world,
and other people's visual art,
and 90s hip-hop dance parties,
and the company of other artists,
and sometimes moments in sacred spaces,
and purposeless, hands-on play.
Are you an artist of some sort? How do you like to play?